When is it My Turn to be Happy | Self Help Host
When is it My Turn to be Happy?
Humans are inherently social species. Our penchant for connecting ultimately sets us apart from the rest of the animal kingdom.
But while we've made leaps and bounds in advancing our understanding of human psychology over the last few decades, it's become increasingly apparent that we haven't unlocked all of its secrets yet.
Everyone is fighting with their problems. But what happens when you're engaged in a conflict you cannot resolve? When is it your turn to be happy?
Some life battles are so hard that they feel impossible to win, and it feels like happiness is always just out of reach.
It's crucial to remember that there is no specific way to be happy in a society that seems more split than ever.
However, regardless of where you are in your journey towards happiness right now, there are several universal truths regarding when it's your turn to be happy—and when it isn't.
It's not your turn to be happy when…
Everyone strives to be happy. It derives from pleasant memories. No matter how much you want to feel pleasure, there are times in your life when it's not the proper time to be happy.
You can be in a challenging circumstance with no apparent solution. You're not to blame for this. You may be feeling blocked with upset time management.
Happiness often shows up when you least expect it, so the process shouldn't be pushed.
Please take note that everyone is grappling with their concerns. It may be a clinical disorder, an unhealthy partnership, or the passing of a loved one.
Contrasts with other people's lives are pointless. There's no set time when everyone is expected to be happy.
If you aren't prepared, don't strain yourself. Few events affecting happiness state are depicted in the illustration.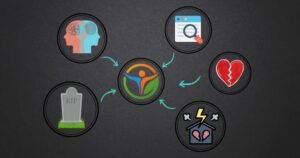 These include the following instances:
You've just lost a loved one
One of the most agonizing and distressing situations you may go through is losing a loved one. You're mourning the loss.
Whether you've just lost a parent, spouse, child, best friend, or another important part of your life, it's important to understand that it will take time for your mind and heart to heal.
Surviving a loss like this can take months or even years. You may never fully bounce back from such a grief. Sadness is natural. Embrace your emotions and cry till your eyes are dry.
There's no timetable for when you'll be "ready" to feel happy again; it's something that occurs gradually over months or even years. There's no need to rush yourself. During this time, it's essential to treat yourself with care and compassion, regardless of how you feel inside.
Don't hasten your recovery. Take as much time as you need to recover from this trauma. The best part you can do for yourself is to reach out for help if you continue to struggle.
You suffer from debilitating depression or anxiety
Suppose you have a mental disorder like depression or anxiety, it's not your turn to be happy. An array of causes can be brought on serious mental diseases, depression and anxiety. If you suffer from debilitating symptoms of these diseases, it's not your turn to be happy. These illnesses, like loss, require months or even years to heal from.
No great explanation to hustle. You can take as long as you want to feel much improved.
It's not your turn to be happy dealing with such mental illness. You're allowed to feel however you need to feel at this moment.
You're not causing harm to anyone by being sad or anxious. You're not breaking the law.
There's no need to haste. You are free to heal for however long is necessary. Nobody anticipates you to be fine now. Your self-discipline can get back on track.
Such disorders can be controlled with medication and therapy, but it's important to recognize that these illnesses don't just disappear overnight. It can take a few months to several years for these disorders to lift, with each person's treatment plan unique to their situation.
Take as long as you need to recoup. You shouldn't feel awful for taking the time you require. Proper rest and sleep help you recover.
The most important thing to remember if you're struggling with these mental illnesses is that you are not alone.
There are millions of other people around the world who are going through the same thing as you, and many of them are eager to connect with you and offer their support.
You feel trapped or unable to advance in your career
Getting stagnant in profession is one of the most miserable experiences in the world.
You hate your job, and it's making you miserable but staying in it due to the financial obligations you have to pay off each month.
You can't leave a job you hate. You know you're capable of much more, but you don't know how to get there. It's okay to feel trapped. You're permitted to feel miserable and disappointed, and there's a compelling reason to rush yourself out of this groove.
Job discontentment can create chronic stress, despair, and other mental health problems that put your physical health at risk.
But if you felt at this point, it'd be great. Even though it may seem odd, training oneself to sit still and contemplate is the important part you can do to stay unstuck.
Forcing yourself to stop and reflect on what you want out of your career and life can be incredibly helpful in getting unstuck, both figuratively and literally.
A low-stress approach and realistic expectations will help you secure a stable career and boost self-efficacy, which aids further career progression.
Discuss your issues with close friends or family and never at work. Prepare some references and revise your resume. Conduct your job hunt quietly and secretly.
Take it easy until you have secured several part-time jobs under your belt first. When it's your turn to step down, do it with dignity and focus all your efforts on your new career and get success.
You're in an abusive relationship: When is it my turn to be loved?
If you're in an abusive relationship, it's hard to identify and even harder to walk away from it. Abuse is the improper use of your influence over the other person.
Abuse is no justified and is not confined to physical assault. It may also be verbal and emotional. Staying in an abusive relationship is never healthy, so it's important to seek help early on instead of putting off coming clean any longer.
However, leaving an abusive relationship is the healthiest choice you can opt for yourself.
Sometimes, situations force you to think, 'when is it my turn to be loved?'. But nobody should turn you down; you deserve much better.
Let yourself the chance to show that you are entitled to love. If you've chosen to leave a poisonous relationship, arrange how you will manage the progress.
To lead a fulfilling life, you must take the charge.
Coming out of one abusive relationship, you may feel many emotions, including shame, anger, guilt, and relief.
Most people experience some form of sadness when they realize how badly they've treated someone they love.
Build up your mental fitness through self-care activities every day; it will be easier to start caring for those around you and making peace with who you are inside. You should preserve your mental and emotional well-being.
This will also provide the room you need to recover from your trauma, but it will also prevent you from continuing to abuse yourself.
Your self-esteem can be impacted by negative ideas and feelings. It would be sage if you ceased interacting with your former once the relationship was done.
You can also pursue different hobbies, like learning any musical instrument. You can be thankful for small acts which inspire positive soul sensations.
Don't be afraid to contact a therapist when you need help setting boundaries or dealing with issues. A skilled therapist can support you in coping and regaining your notion of self. Attempt to swap unfair or unjust with favorable or positive ones.
People also read:
10 Certain Signs Your higher Self is Talking to You
 Not Everyone Has the Same Heart as You
You just ended a long-term relationship
You just ended a long-term relationship. Breakups suck, but they are a necessary part of every healthy relationship. You're allowed to feel however you need to feel at this moment.
However, it allows you to explore your feelings and decide whether or not the relationship is truly right for you and your partner. If it isn't, sometimes it's better to end it early before it has a chance to go toxic.
However, just like with any other difficult experience, you need to allow yourself time to mourn the relationship before you can move on and be happy again.
Tell your spouse in person if you intend to be open and strong.
Your partner will probably come to terms with the breakup of your long-term relationship easier if it isn't too abrupt or upsetting. Put an end calmly. Pick a good time and date. Please refrain from breaking a heated discussion or revealing the surprise to them.
Is happiness a choice or a chance?
Happiness is a sensation. You do not influence your thinking. Being aware that happiness is a choice does not suffice.
As evidenced by the points listed above, there are various times in your life when it's best not to focus on being happy.
The most important thing is to know when you're not ready to be happy yet and to accept that.
This illustrates that pleasure is not something you seek but is the outcome of a specific set of recurring life events.
Life isn't always fair, and it's important to remember that not everyone will experience happiness at the same time as you.
Each of us experiences joy and sadness in our unique way and at different intervals throughout our lives.
Conclusion
Consider the wider context and ask yourself why you're feeling so terrible. Certain premises are relevant to when it's your turn to be happy.
There are no simple strategies for happiness. There aren't any miraculous cures or workarounds that can help you out of the doldrums. It's been said that we all have our battles to fight.
Don't panic if your impulses dominate; give yourself some space. Nobody will condemn you. Be aware that there is no proper or incorrect way to mourn, and chat often.
Be adaptable in your approach and permit yourself to modify your views.
Remember to keep your mind on the pleasant moments you shared in the past. However, it can be an extremely intense period.
Be nice to yourself and seek support when required. Even though it could seem unpleasant initially, explore seeking psychosocial support, particularly if you're depressed.
A psychologist can offer you expert advice or something like a new task or strategy to reach a higher level of happiness.
There are only small, daily decisions that you make in your life that will, over time, help you become happier and healthier.
You desire happiness. If you didn't want to, you wouldn't be seeking out. That is where you really have the ability to affect change rests!
When is it my turn to be happy quotes
There are occasions when you could be looking for some helpful sayings. A few uplifting quotes are:
"If more of us valued food and cheer and song above hoarded gold, it would be a merrier world." ― J.R.R. Tolkien
"Folks are usually about as happy as they make their minds up to be." ― Abraham Lincoln
"Happiness is when what you think, what you say, and what you do are in harmony."
― Mahatma Gandhi
"Happiness depends upon ourselves." ―Aristotle
"A calm and modest life brings more happiness than the pursuit of success combined with constant restlessness." ― Albert Einstein
"Those who have happy homes seldom turn out badly." 
― Daniel H Hill
"I figured something out. The future is unpredictable." ― John Green
"Happiness is having a large, loving, caring, close-knit family in another city."
― George Burns
"I have chosen to be happy because it's good for my health." ― Voltaire
"Happiness is a journey, not a destination." ― Buddha
"I find hope in the darkest of days and focus in the brightest. I do not judge the universe." ― Dalai Lama
"Sanity and happiness are an impossible combination." ―  Mark Twain
"Happiness is a state of mind. It's just according to the way you look at things."

― Walt Disney
"I don't care how much I give to make others happy. It makes me happy too."

― Terry Mark
"Think of all the beauty still left around you and be happy." ― Anne Frank
"Even on the worst days, you still manage to make me smile." ― Mary Gaohlee Thao
"The most important thing is to enjoy your life—to be happy—it's all that matters." ― Audrey Hepburn
"I wish I could show you, when you are lonely or in darkness, the astonishing light of your own being." ― Hafiz
"Happiness is not a goal…it's a by-product of a life well-lived." ― Eleanor Roosevelt